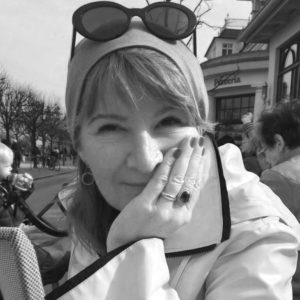 How does Sabrina work?
For me, Sabrina's attitude embodies the mindset our modern times need. The: "Yes, and…" instead of the "No, but…" is already engraved in her skin. Ruthless competition or stealing ideas is the opposite of what she believes in, that's why her colleagues so generously provide her with their scripts for assessment. She offers motivating feedback and encourages others and her enthusiasm opens doors. As an alumna of the Serial Eyes program she masters pitching and can convey ideas. Sabrina thinks globally and because of her multilingualism she has great experiences with international co-productions. She's naturally "out of the box", a true achiever and that passion catches on. She has a feeling for stories with serial - potential and she has a unique way of helping people to express themselves.
What does she add to your work?
Sabrina brings the young, open-minded and curious writer's perspective into the consulting. She embodies and exports the spirit 4.0. Because of her specific training and experience with co-productions she has international know-how. And she's way better in English than I am – especially in written English. She's a great networker, she knows the market and has a good feeling for trends. She finishes what she starts. Sabrina combines a glorious mixture of bravery, grounded-craziness and humor, which makes working with her a pleasure. She grounds my complex ways of thinking and she has that special something you can call pragmatic realism. You can take off with her - and land safely.
Anything else about Sabrina?
Sabrina is a good antidote to the German seriousness. She has a great sense of humor. She is so aware of her creative potential that she's immune to any kind of power play. In the famous "cookie test", where the reaction of participants who are given power is analyzed, she would have given her colleagues an extra portion of cookies, instead of eating them all – like most participants did.
Vita Verena Michl (frm. Weese):
Verena is a typical product of the Berlin 90s'. She studied philosophy and media consulting, she has a degree in acting and financed her education as a cook in different restaurants in Prenzlauer Berg, where in '95 a special dish she created: "Rosa Spaghetti mit Mandel Pesto, gefolgt von einer Zartbittermousse auf Beerenspiegel" received a mentioning in the New York Times. In 2001 she founded her consulting label StoryDocs, working as a story consultant for numerous movie and TV productions until she got hired for the development of "Das Adlon", for ARD, written by Rodica Döhnert. Ever since she shifted the focus of her work to television. She has been teaching at the Hamburg Media School for more than ten years, with a pit stop at the HFF Munich, where she and Sabrina presented their workshop at the Seriencamp festival. Verena is also a life-coach and business consultant. It's all about Storytelling.